Jaisalmer is a captivating destination located in the western Indian state of Rajasthan. It is an enchanting city renowned for its stunning architecture, rich history, and unique culture. Book Jaisalmer city tour packages and experience the beauty of the 'Golden City.'
Jaisalmer is a majestic city boasting incredible monuments, including the stunning Jaisalmer Fort, which is a UNESCO World Heritage Site situated atop a hill. You can also explore the magnificent Jain Temples, which are a must-visit with any Jaisalmer tour package. In addition, you can experience the local culture by visiting the Havelis of Patwon Ki and Salim Singhji Ki.
Booking Jaisalmer city tour packages by Jaisalmer Tourism, a subdivision of Holidays DNA, is a great way to relish the rich culture of Rajasthan. You can enjoy thrilling camel safaris and witness breathtaking sunset on the desert sands. With its warm hospitality and a wide array of cultural experiences, Jaisalmer has become a popular tourist destination in Rajasthan, attracting travelers from around the world.
Our Jaisalmer city tour packages provide a comprehensive journey to the beautiful city. You can stay at the finest hotels in Jaisalmer, offering best-in-class services that fit your budget. We also arrange exclusive sightseeing tours that cover all the major attractions. Our experienced tour guides will help you explore Jaisalmer's bustling markets, vibrant nightlife, and traditional crafts.
List of the Top Tourists Attractions to Visit through Jaisalmer city tour packages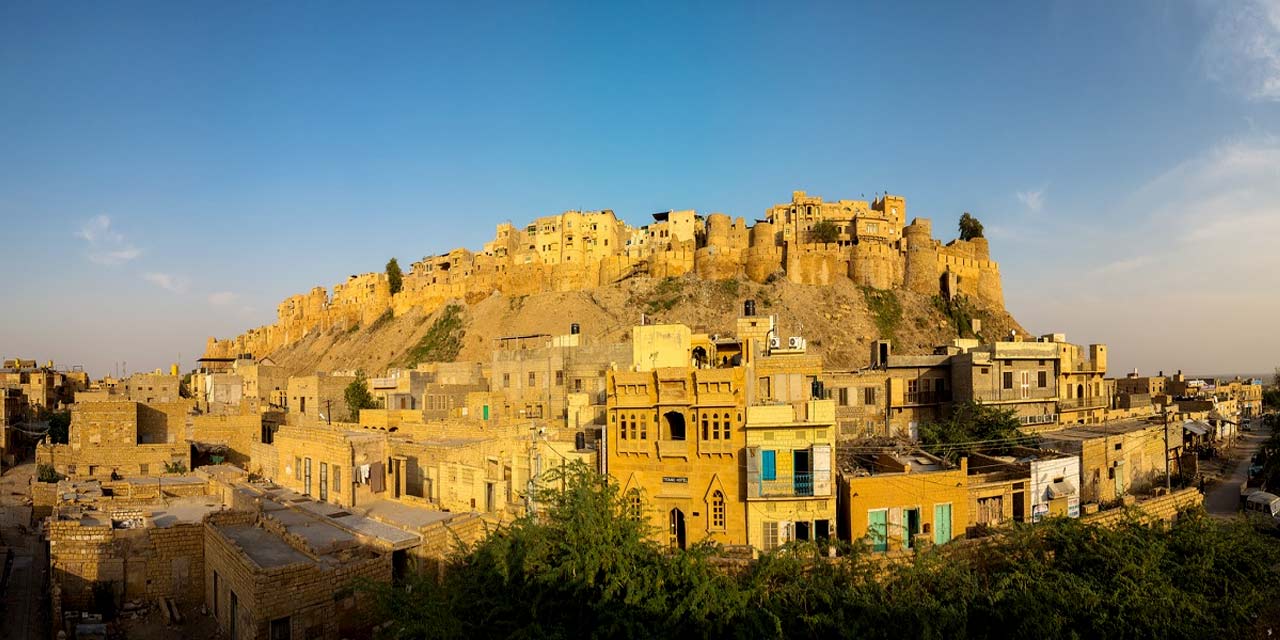 Rising majestically from the golden sands of the Thar Desert, Jaisalmer Fort is a UNESCO World Heritage Site and one of the world's largest fully preserved fortified cities. Constructed in the 12th century, the fort is known for its yellow sandstone walls that harmoniously merge with the surrounding landscape.
Inside, you can wander through narrow lanes, admire ornate palaces, marvel at intricately carved havelis (mansions), and enjoy shopping in vibrant markets that provide a glimpse into the city's rich history and culture. Jaisalmer Fort is a testament to the artistic brilliance of the Rajput civilization.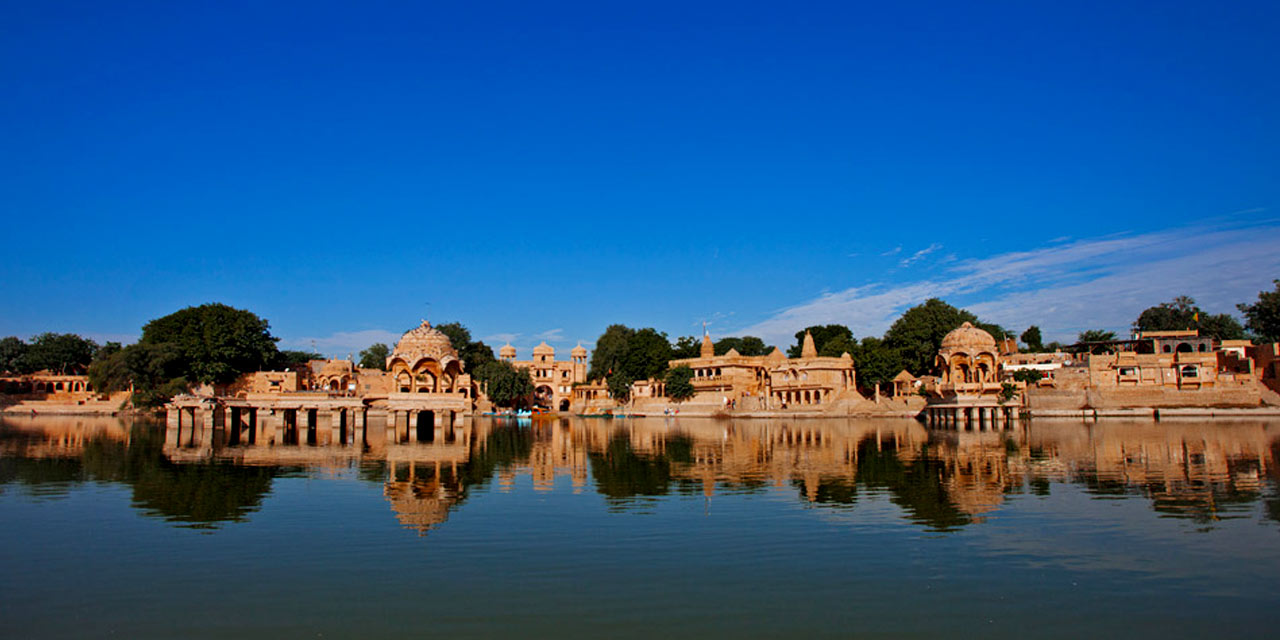 Gadisar Lake, built in the 14th century by Maharaja Gadsi Singh, is a captivating man-made reservoir. It served as a vital water source for the arid region. Encircled by intricately carved chhatris (cenotaphs) and ornate temples with stunning architecture, the lake offers a serene oasis amidst the desert landscape.
Boating in its placid waters provides a peaceful experience, while the surrounding gardens and pavilions offer a perfect setting for relaxation and reflection. Bird lovers can enjoy sighting beautiful migratory birds that visit the lake in winter. You are sure to be captivated by the ethereal beauty of this picturesque lake.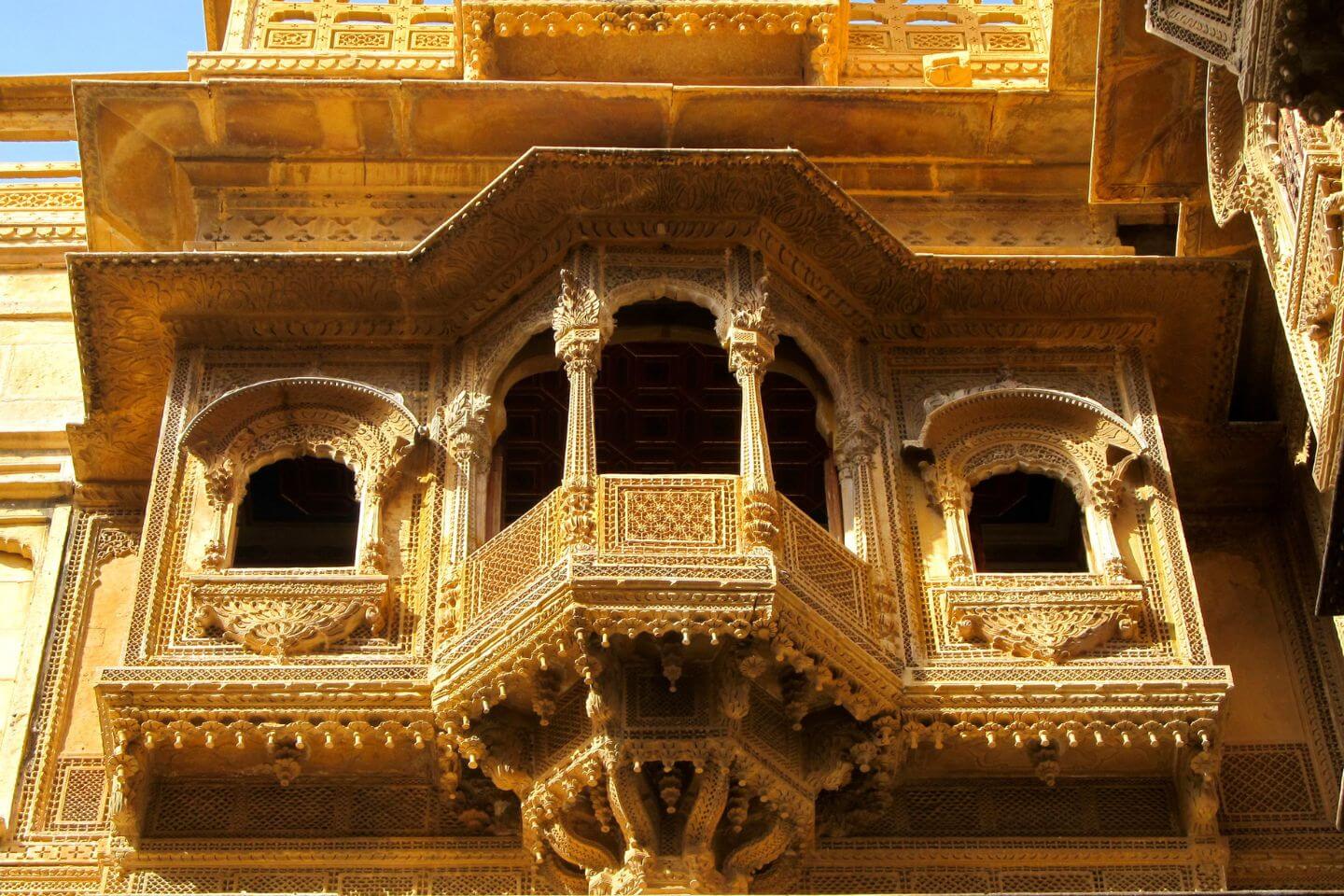 Patwon ki Haveli, a cluster of five havelis, is a remarkable architectural masterpiece. A wealthy merchant family constructed these intricately designed mansions in the 19th century. The havelis showcase exquisite craftsmanship with elaborately carved facades, delicate balconies, and ornate interiors adorned with frescoes and mirror work.
Each haveli boasts unique features such as elaborate facades, intricately carved balconies, and ornate jharokhas (projecting windows). The sandstone walls are adorned with detailed motifs and frescoes depicting scenes from daily life, mythology, and folklore. You can also explore an in-house museum that displays 19th-century artifacts belonging to the region.
Sam Sand Dunes are expansive golden sand dunes that provide a mesmerizing experience in the heart of the Thar Desert. Stretching for 2 km along the desert, these towering sand dunes rise to heights of 30 to 60 m. You can engage in thrilling activities such as camel safaris, dune bashing, and quad biking while witnessing breathtaking sunset and traditional Rajasthani folk performances amidst the dunes.
The serene ambiance and undulating landscape create a surreal atmosphere, allowing you to capture stunning photographs and embrace the tranquil surroundings. Sam Sand Dunes leave an indelible mark on every traveler's memory.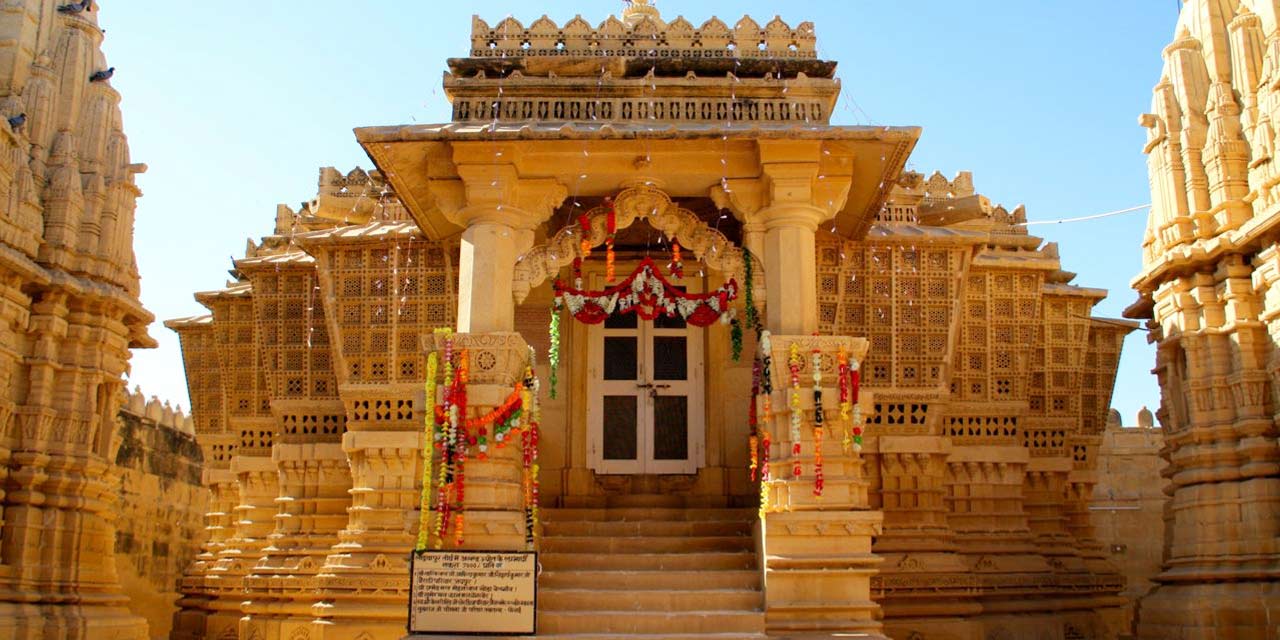 Inside the Jaisalmer Fort, you can explore the Jain Temples dating back to the 12th and 15th centuries. These ancient temples showcase the exquisite artistry and religious devotion of the Jain community. Adorned with intricate carvings and delicate sculptures, the temples exhibit a mesmerizing blend of architectural styles that reflect the Dilwara Temple style.
The yellow sandstone used in their construction adds to their unique charm, especially when illuminated by the golden rays of the sun. You can explore the intricately designed interiors, marvel at the ornate ceilings, and admire the beautiful idols of Jain Tirthankaras.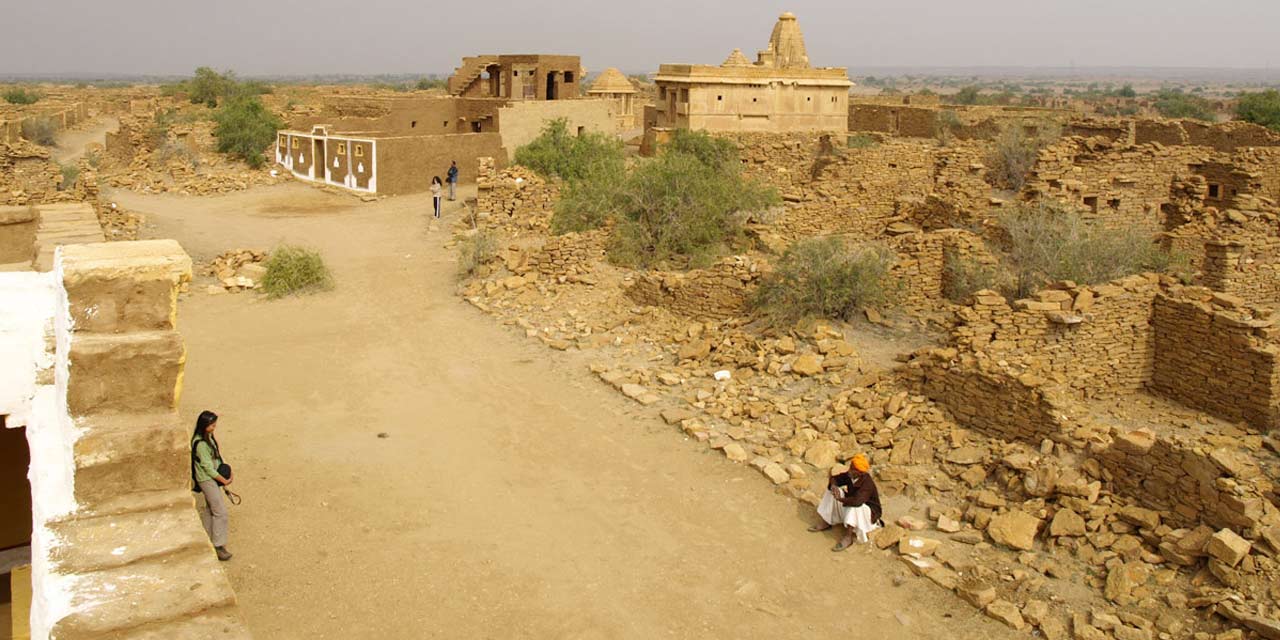 Kuldhara Village, steeped in mystery and folklore, is a captivating tourist destination. Abandoned in the early 19th century, the village possesses an eerie charm that attracts visitors from far and wide. According to legend, the village was cursed, resulting in the overnight exodus of its inhabitants.
Exploring the crumbling ruins of Kuldhara offers a haunting experience, with dilapidated houses, narrow alleys, and an atmosphere of intrigue. The village's ghostly reputation enhances its allure, enticing your curiosity to uncover the secrets hidden within its deserted walls. For history enthusiasts and those seeking offbeat adventures, Kuldhara Village is a unique destination.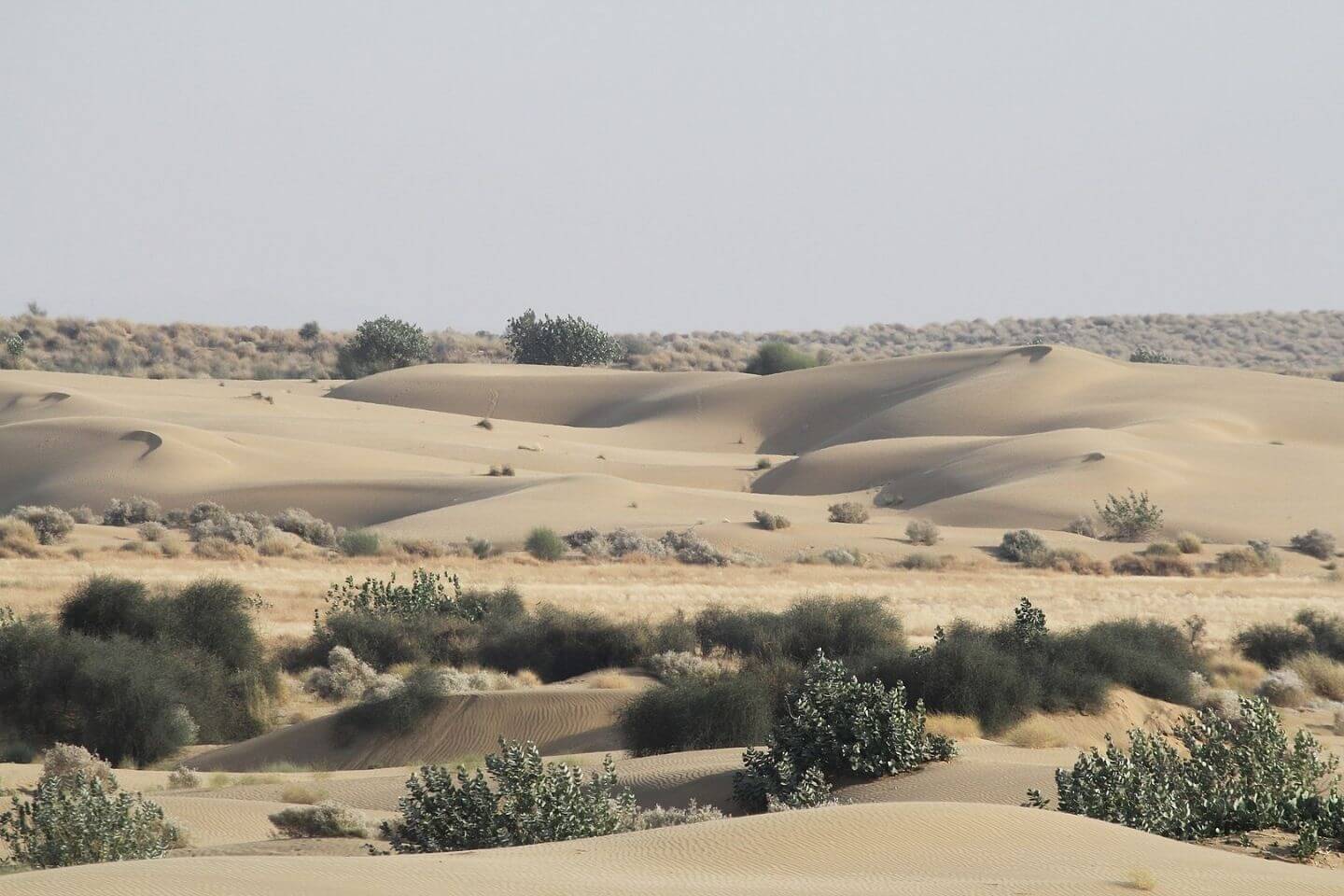 Desert National Park is a remarkable sanctuary that showcases the captivating beauty of the Thar Desert. Spanning over 3,162 sq km, it is renowned for its diverse ecosystem and unique desert wildlife. The park is home to many species, including the endangered Great Indian Bustard, Desert Fox, Blackbuck, Antelope, and numerous reptiles.
You can immerse yourself in the surreal landscape of shifting sand dunes, rocky outcrops, and scrub vegetation. The park also offers opportunities for birdwatching, camel safaris, and star-gazing, providing a mesmerizing experience for nature lovers and adventure seekers alike.
How To Reach Jaisalmer
Jodhpur Airport, 300 km away, is the nearest airport to Jaisalmer. You can take flights from major cities like Chennai, Mumbai, Bangalore, and Delhi. Jaisalmer Railway Station is well-connected to various Indian cities. The luxury train, 'Palace on Wheels,' is a popular train to Jaisalmer for a regal experience. The city is also accessible by road with frequent bus services and numerous taxi services.