Jaisalmer is famous for its stunning sandstone architecture and vibrant culture. It offers enchanting desert landscapes, which are dotted with gorgeous havelis (mansions) and elegant palaces.
You can explore the winding lanes of Jaisalmer, visit ancient temples and ruins, enjoy camel safaris in the Thar Desert, or take part in colorful festivals like the Desert Festival with our customized Jaisalmer Darshan Packages.
The city also boasts some of India's best-preserved folk music, art, and dance. You can experience the culture and traditions of Rajasthan by attending local events or taking a camel ride through Sam Sand Dunes.
Wildlife enthusiasts will be delighted to spot some rare species in the Bishnoi Village. Apart from sightseeing, you can also take part in exciting activities like jeep safaris, hot air balloon rides, and paragliding.
Our Jaisalmer Darshan Packages are carefully crafted to help you enjoy the best of the majestic desert city. Our packages include pick-up and drop services, accommodation, sightseeing tours, meals, and activities. We take care of all your travel-related requirements so that you can relax and have a great time in Jaisalmer.
We also share the list of the best cab vendors from Jaisalmer to make your trip convenient. Our team of experts is available 24 hours to assist you so that you have a unique and unforgettable experience.
Our Jaisalmer Darshan Packages can be customized to suit the needs of those traveling with family, friends, spouse, and even solo. You can explore the best tourist attractions in and around Jaisalmer and enjoy a comfortable stay with our Jaisalmer tour packages with stay and hotel.
Top Places to Visit in Jaisalmer Darshan Packages
You can include the following places to visit in our Jaisalmer Darshan Packages: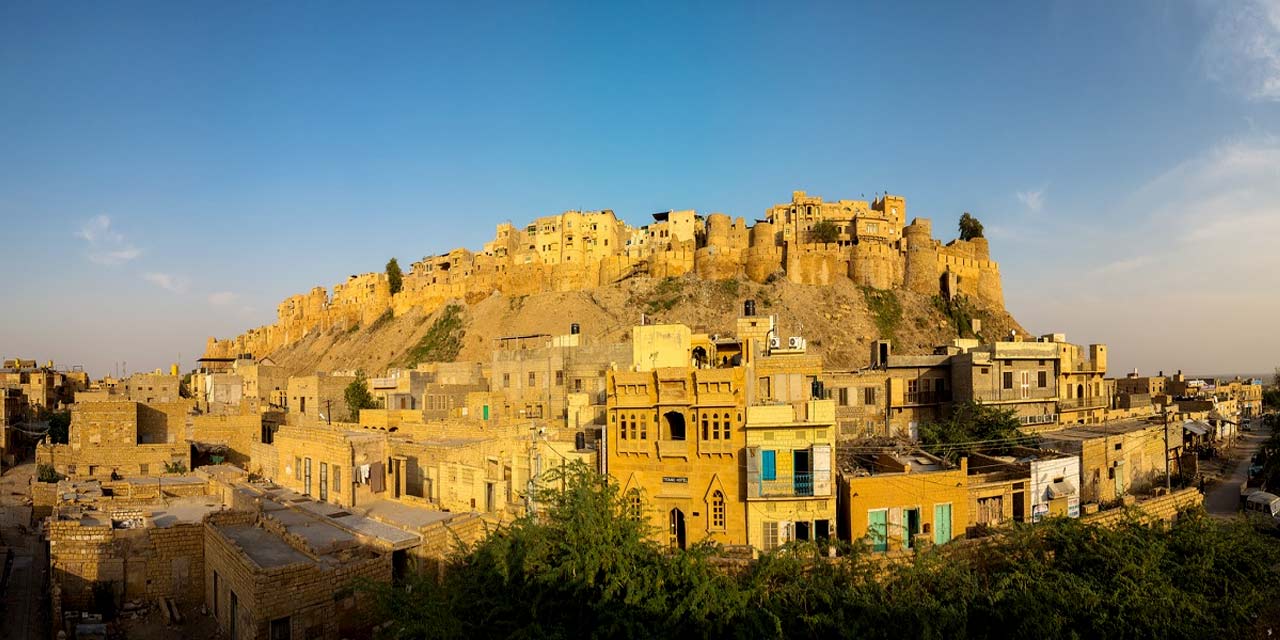 Jaisalmer Fort, also known as Sonar Quila or the Golden Fort, is a magnificent tourist attraction in Jaisalmer. A UNESCO World Heritage Site, you will be captivated by its stunning architecture and rich history. You can explore the narrow winding lanes, ornate havelis, and intricately carved temples within the fort's walls.
In addition, there is also a bustling market inside the fort to buy memorabilia for you and your loved ones. You can also engage in camel rides and cultural performances that showcase the desert's heritage. Overall, the Fort is indeed a charming and unforgettable experience.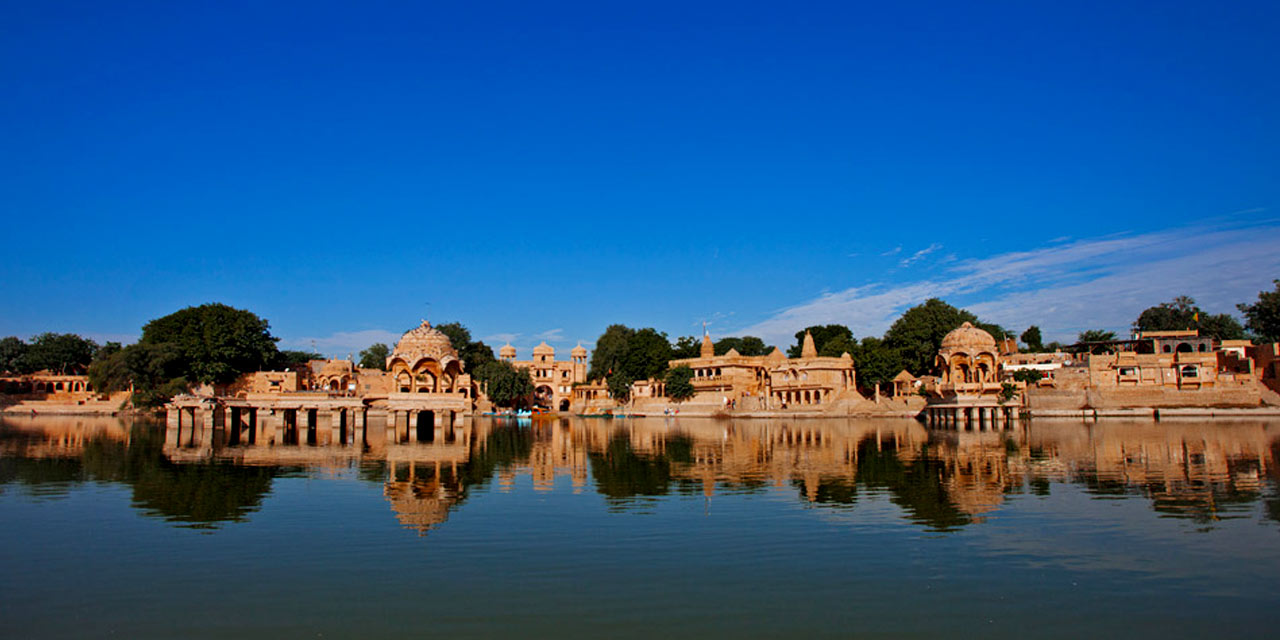 The serene beauty of Gadisar Lake makes it a must-visit attraction in Jaisalmer. As you stroll along its peaceful banks, you will be captivated by the tranquil ambiance and scenic views. You can take a boat ride on the lake while admiring the mesmerizing architecture of the surrounding fort.
You can also feed the friendly catfish that inhabit the lake or simply relax while enjoying a picnic. Bird lovers can enjoy the sight of migratory birds flocking the lake in winter. The lake's allure is further enhanced during sunrise and sunset, offering opportunities for some memorable pictures.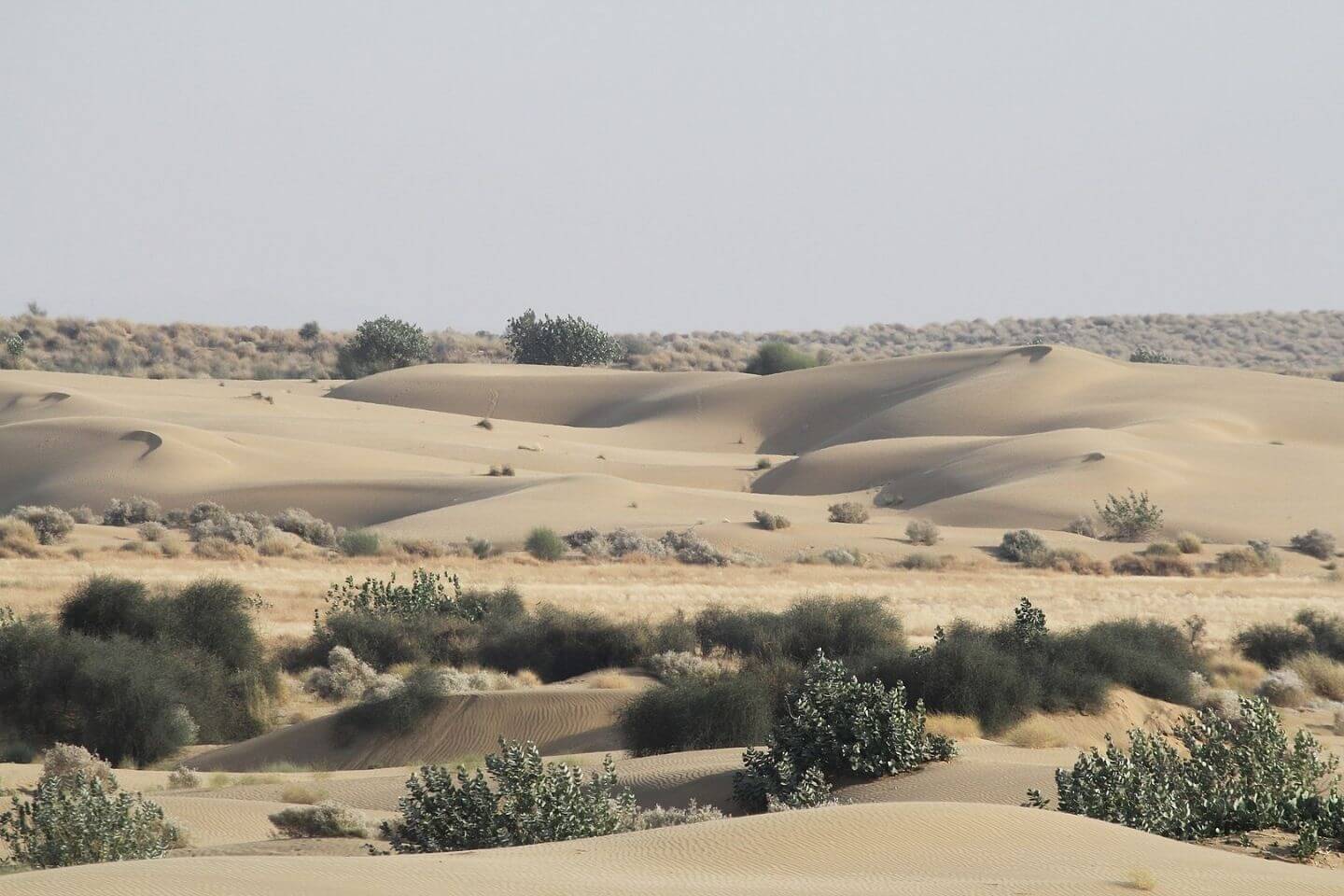 The Desert National Park in Jaisalmer is renowned for its unique desert ecosystem and offers a range of attractions and experiences. It is covered by desert vegetation like cacti and thorny bushes.
The park is home to a diverse range of animals, including rare and endangered species like the Great Indian Bustard, Desert Fox, and Blackbuck. You can enjoy the quintessential desert experience by going on camel safaris, where you can traverse the sandy terrain and witness the unique charm of the desert up close.
The park is also rich in cultural heritage, with nearby villages offering glimpses into the traditional lifestyles and customs of desert communities.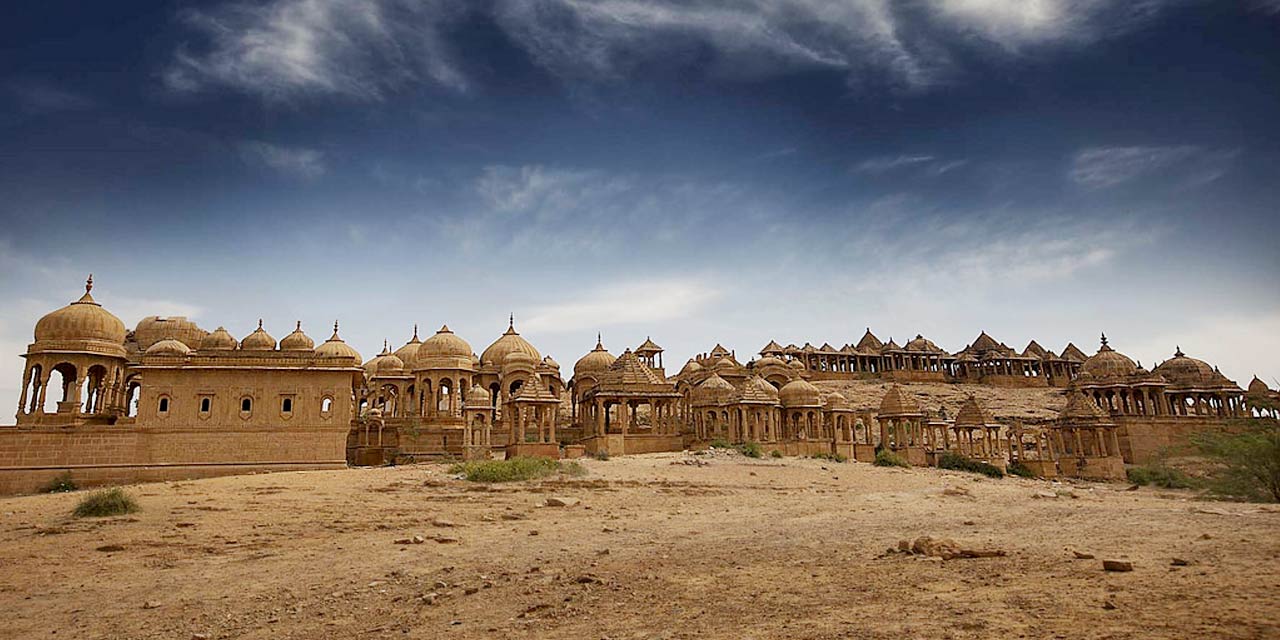 Immerse yourself in the history, artistry, and serene beauty of Bada Bagh for a truly memorable experience. This "Big Garden" is known for its impressive collection of chhatris (cenotaphs) that honor the legacy of the royal families of Jaisalmer.
As you explore the site, you will be mesmerized by the different shapes of the domes on the chhatris, set against the backdrop of the vast desert landscape with majestic windmills visible at a distance. Bada Bagh also offers panoramic views of the surrounding countryside, making it a perfect spot to witness a stunning desert sunset.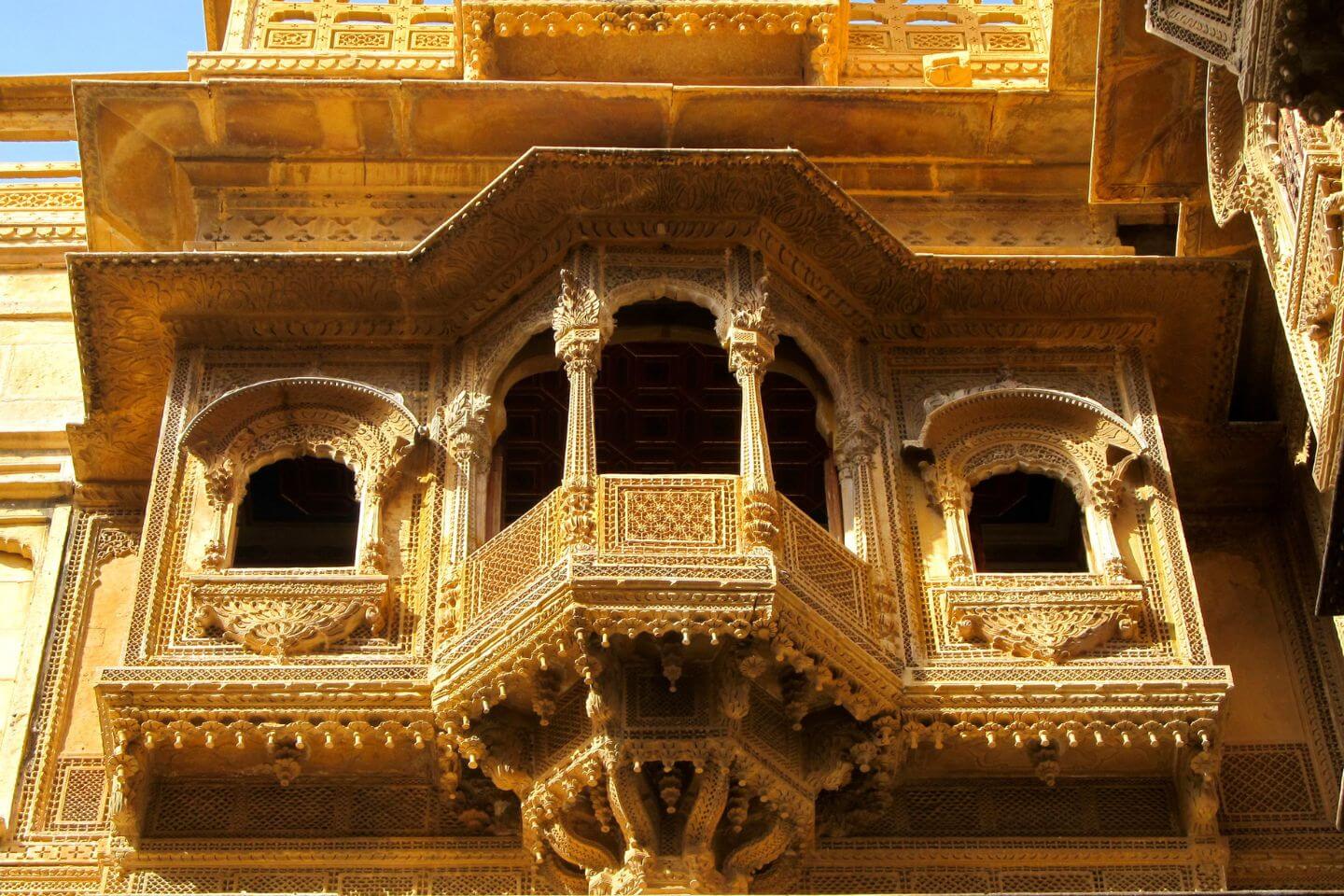 Patwon ki Haveli, a cluster of five historic mansions in Jaisalmer, is a must-visit for architecture and history enthusiasts. These intricately crafted havelis showcase the opulence and artistic brilliance of the bygone era.
Adorned with intricate carvings, ornate balconies, and elaborate facades, each haveli has a unique charm. While exploring the ornamental interiors of the mansions, you can also check out the museums, showcasing antique artifacts and offering insights into the rich cultural heritage of Jaisalmer.
Stepping into the grandeur of Patwon ki Haveli and relishing the essence of a bygone era is a regal experience.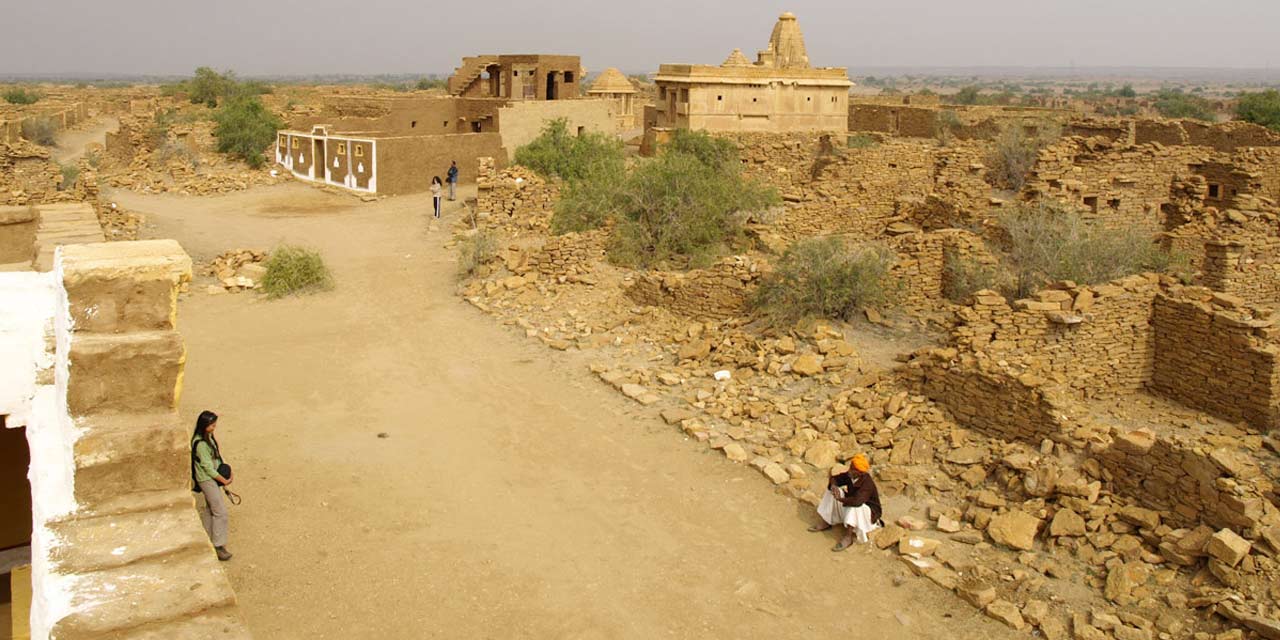 Kuldhara Village, located near Jaisalmer, is a captivating tourist destination shrouded in mystery and folklore. Abandoned over two centuries ago, the village carries an air of eerie enchantment. You can explore the deserted streets and crumbling houses that whisper tales of an entire community's disappearance overnight under the tyranny of a minister.
You can view the ruins of a temple with inscriptions providing information about the ancient village. The site offers a unique blend of historical exploration and paranormal curiosity, making it a must-visit for those seeking a hauntingly beautiful experience in the deserts of Jaisalmer.
Sam Sand Dunes, nestled in the Thar Desert near Jaisalmer, is a mesmerizing tourist destination. The towering sand dunes provide a breathtaking backdrop for adventure and fun. While visiting, make sure to engage yourself in exhilarating activities like dune bashing, camel safaris, and quad biking, as you navigate the undulating sands.
Witness a stunning desert sunset, and experience the vibrant Rajasthani culture with traditional music and dance performances under the starry night sky. You must check out the Desert Festival, celebrated for three days every year with fun activities like folk dance, puppet shows, and camel races.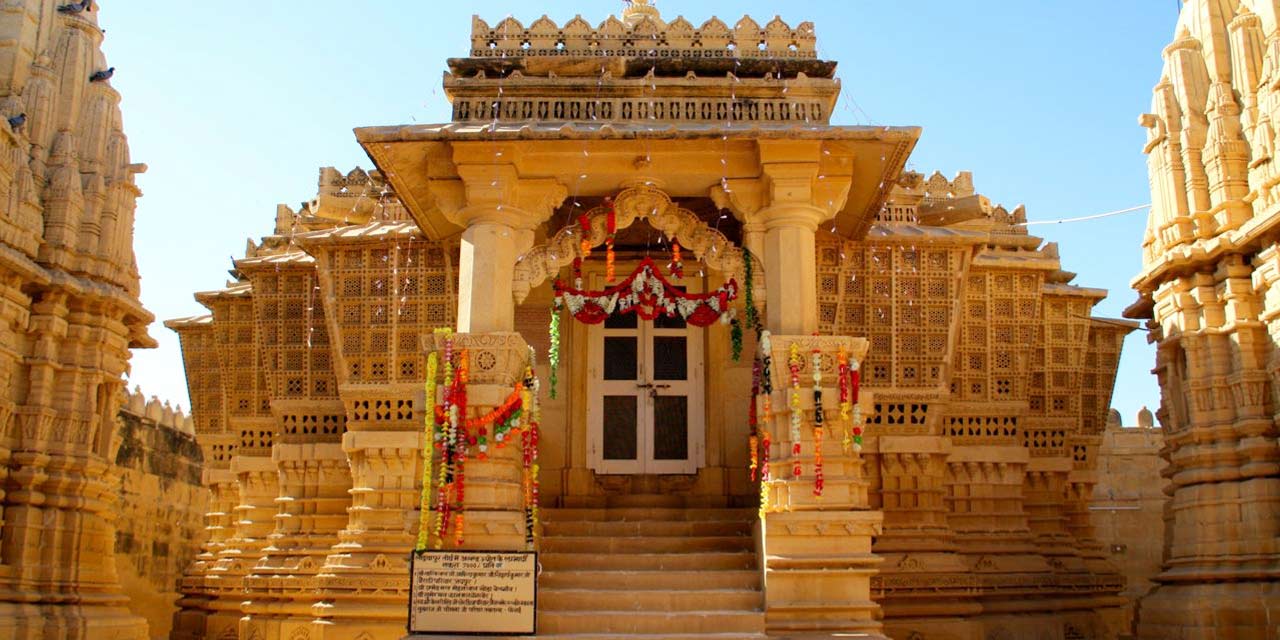 Jaisalmer is home to exquisite Jain temples that are a significant part of its cultural and architectural heritage. The Jain temples, known for their intricate craftsmanship and spiritual ambiance, attract visitors from around the world.
While touring, you will definitely marvel at the ornate marble carvings, delicate sculptures, and detailed frescoes that adorn the temples. You will be awed by the magnificent Dilwara-style ceilings and the Kalpavriksha sculpture.
History enthusiasts must check out the library, Gyan Bhandar, with manuscripts and texts containing information about the temples. Overall, the temples give interesting opportunities to learn and explore stories from Jain mythology.